cupcakes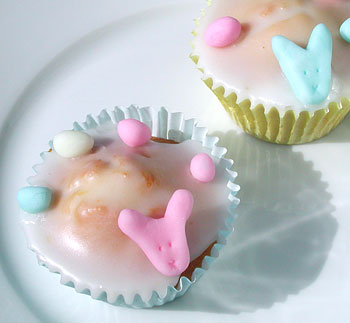 It seems that quite a few people have been trying out the kasutera/castella recipe recently, and running into problems. Castella is not an easy cake. So, since it's Easter, I thought I'd haul this out of the archives attic. These little 'rich tea cakes' are much easier to make, and while they have an entirely different texture they are really quite delicious. I hope you'll give them a try! The fondant is not too hard if you can get a hold of the glycerin, but alternatively you could use store bought Easter themed cake decorations. Originally published in March 2005, as part of the late lamented Is My Blog Burning food blog event.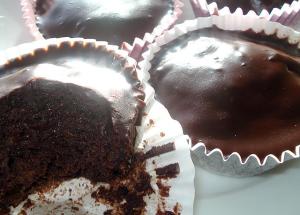 In the movie Chocolat, Juliette Binoche plays a somewhat mysterious woman who opens a chocolate shop in a small French village. She uses ancient Aztec spices in her chocolate confectioneries, which soon prove to have almost magical, often aphrodesiac, properties. While Chocolat is not in my top 5, or even 10, favorite food-theme movies (see here for that list), the idea of spiced chocolates has intrigued me ever since I saw it. One of my favorite chocolate bars is the Masala one made by Dolfin.
Making a spicy chocolate confection is a bit of a tricky affair though. You don't want the spices to overwhelm the chocolate - it should just form a sort of interesting background, yet provide a bit of a surprising bite and a warm, 'what is that?' quality.
These cupcakes have a rich but not too sweet bisquit (cake) base, with the warmth of curry powder and the bite of coarsely ground pepper. They are moistened with a teaspoon per cupcake of mocca liqueur, which increases its intensity and pushes it into the realm of an adult indulgence. The chocolate ganache has a pinch of cayenne pepper in it. The marriage is quite successful (or so the Tasters emphatically agreed). I'm not sure if they work at aphrodesiacs, but if your sweetheart is a chocoholic, you never know… They make a terrific Valentine's Day dessert or treat in any case.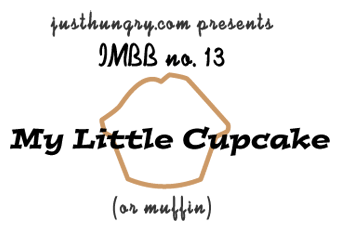 Update posted late Sunday, March 27th: I wasn't at my computer most of the weekend, and there were a few late or inadvertently omitted entries waiting in my mailbox. They've now all been posted I think, bringing the total to 89 entries. Wow.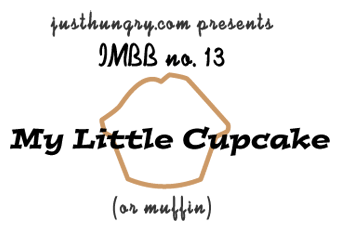 I was just really very hungry (the site you are reading right now) is proud to host the lucky 13th edition of Is My Blog Burning, the mother (father?) of blogging food events originated by Alberto of Il Forno. The theme for this month is: My Little Cupcake (or muffin).