masterchef
A mini-rant of sorts, about MasterChef, the show I used to love.
Longtime readers of Just Hungry may know that I am a big fan of the UK cooking-competition show MasterChef. I've written about it here several times, and even did my own ingredient challenge for six weeks one year. I also watched most of the Australian version, and commented on it a bit too. Well now there is going to be a U.S. version of MasterChef.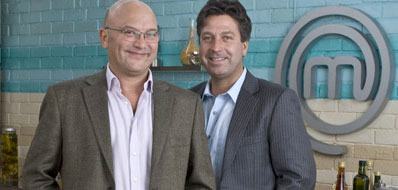 My favorite food TV show MasterChef is back for another round of competitive cooking fun! The hosts are John Torode and Gregg Wallace again, or Pasty and Toad as they are affectionately (or not) known in MasterChef fan circles. (I can't remember who is Pasty and who is Toad though.) See my thoughts on the 2008 MasterChef finals and you'll see why I love this show. I hope that 2009 will reveal equally exciting talents.
Some food TV news for you if you live in the UK or regions of Europe that get British TV. The Supersizers Go is being repeated, The Restaurant is back for another round, and more.
The three finalists of the BBC's MasterChef 2008 wait anxiously for the winner to be proclaimed…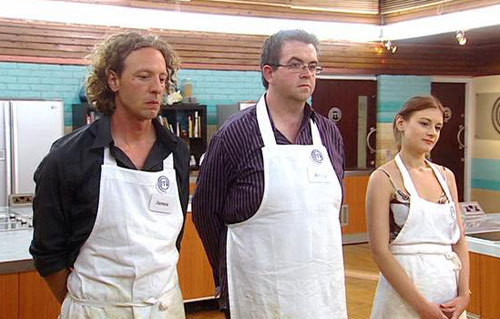 My favorite food tv show is back! Plus, a look back at the best and worst of food television in 2007.
[Update: Steven has a very gracious post about his win on his blog.]
The winner of Masterchef 2007 is Steven Wallis, a trend analyst from London. Here's how he looked when he was proclaimed the victor.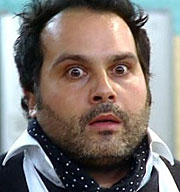 As with previous seasons the final three-course original menu test was the one deciding factor for determining the winner. While both Ben and Hannah tripped up a bit on at least one of their courses, Steven really excelled with all three of his dishes.
Unlike last season, where the perceived failings of eventual winner Peter in tasks leading up to that final three-course test lead to some dissatisfaction about his being declared the winner over crowd favorite (and hottie) Dean, this season's finalists were fairly even in the tasks during the final week. For me at least there was no clear favorite going into the final episode.
A quick reminder to everyone within viewing range of BBC Two: the one hour finale of Masterchef Goes Large 2007 is on tonight at 21:00 CET / 20:00 BT! Will it be artistic but palate-deficient Ben, passionate but nervous Hannah, or the man with a fine palate who has a problem with time management, Steven? It's too close to call…and besides last year we all thought Dean was going to win and Peter won instead, so who knows what will happen? Although I haven't written much about this season, it's been a great one, with some amazing challenges. I'm really looking forward to tonight!
Update: The season is over and the winner is announced.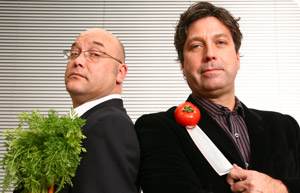 MasterChef Goes Large, the best competitive cooking show on television today*, starts its third round today. If you live in the U.K.
I am eternally grateful that the BBC broadcasts free-to-air on satellite, and that I live within reception range. I feel a bit guilty that I don't have to pay anything to view the Beeb as UK residents do, and believe me if they started to bill me something I'd pay it without question. The BBC has the best programming, bar none, of any network I've ever seen in any country. (I'm even a closet East Enders watcher, but don't tell anyone.)