sugar-free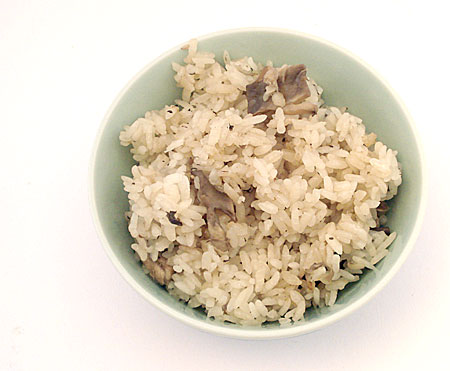 The very first full recipe I posted on Just Hungry almost 4 years ago was Mushroom Rice (kinoko no takikomi gohan), and it still gets a lot of visits and comments, even though there's no photo to whet the reader's appetite or anything.
The original recipe called for traditional dashi stock made from bonito (fish) flakes, and suggested adding chicken and other things.
This version is a lot simpler to assemble and it's all vegan, but it's just as tasty. And it comes with a photo! (My early photos on the site are pretty awful. I like to think I've learned a little since then.) I am using this in an upcoming bento, but it's good for regular dinner too, so it's posted here. It's actually the best when it's freshly made - the aroma of the mushrooms fills the kitchen, quite irresistible if you love mushrooms as I do. It is a very autumn (fall) kind of dish.
I think that this dish reflects my changing tastes and eating habits too, not to mention how I approach writing for Just Hungry, too. 4 years ago, I wasn't that worried about health issues or anything of that nature in regards to food. Now, I am rather proud that I have a tasty dish that is sugar-free, gluten-free (if you use a gluten-free soy sauce), and vegan! I feel a bit trendy.