cheese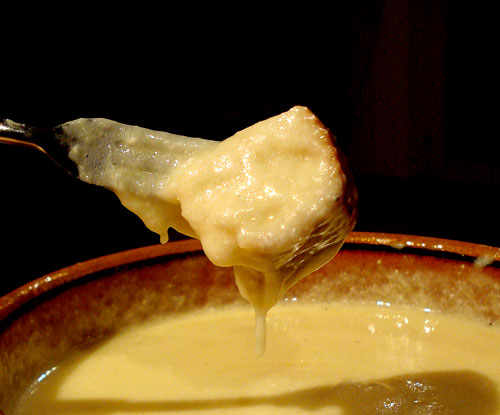 (The 10 year anniversary of JustHungry is at the end of this month. To commemorate this pretty big birthday for the site, I'm highlighting some of my favorite posts from the archives. This recipe is for an authentic Swiss cheese fondue. It was my late mother in law Martha's recipe. It's perfect for a chilly evening. Originally published on December 26, 2008, one year after Martha passed away.)
Martha passed away on the 26th of December, 2007. When she was still healthy, we shared many a pot of cheese fondue with her during the cold winter months. Her fondue was without question, the best I've ever had anywhere. So in her memory, we made a proper cheese fondue.
I've already posted Martha's fondue recipe 5 years ago (she was still making them then), but since it was one of the very early posts here on Just Hungry, it has no relevant picture to accompany the recipe or anything. To rectify that, here again is Martha's proper Swiss fondue, with many photos and detailed instructions.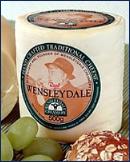 Here's another bit of food related shopping news for my fellow Swiss residents, expat or not. I recently got an email about a new site called The Cheese Club. They are still in pre-launch mode - the official launch is scheduled for February. One thing that makes they quite interesting is that they are run by an English and Swiss couple and will be selling British cheeses, as well as Swiss and Spanish cheeses. As far as I know, British cheeses aren't that widely available here in Switzerland (Jelmoli has a limited selection, at least in Zürich) so this could be good news for a lot of people. (There really is no substitute for a good Stilton, for example.)
Although they haven't officially opened yet, they are already selling a cheese tasting pack, which includes wedges of blue Stilton and Wensleydale, for 69 CHF. They guarantee delivery by December 21st. Could be a great gift for your favorite homesick Brit!
I finally succumbed to the inevitable and went to the dentist yesterday, to have a back molar that has been twinging with pain for months looked at. And, as to be expected when you hold off that dreaded dentist visit for too long, my options weren't good: root canal surgery, or get the tooth pulled. I pondered my choices for, oh, about 5 seconds before settling on the tooth extraction option. (I've had root canal surgery once before…never, ever again will I go through that agony).
While it was my lesser-pain option, and Herr Dentist was as efficient as can be, I was still in pain as I got back to Zürich. (Herr Dentist is in Winterthur.) But my spirits lifted when I saw that the Wednesday Speciality Market (Spezialitätenmarkt im Hauptbahnhof) was back after a monthlong summer vacation. I headed straight for my favorite cheese vendor, which sells cheeses made by farmers/cheesemakers in the Züri Oberland region - in other words, very local, all artisanally made and so on.

Don't forget to tune in to Cheddarvision.tv (previously mentioned on Just Hungry here) today! They are going to turn the Big Cheese over, take a core sample, and see how it's doing! If they haven't already…I'm not sure. Was that label on the other end before? (thanks Mimi!)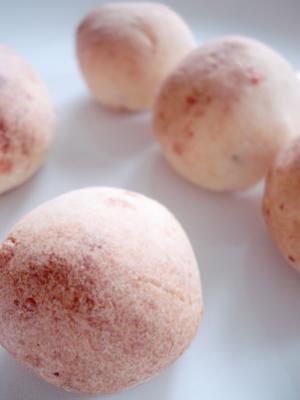 This may not be well known outside of the two respective countries, but there are pretty strong historical and cultural ties between Japan and Brazil. There was a wave of emigration from Japan to Brazil in the early part of the 20th century and later on around the '50s and '60s. And in the last 30 years, many Brazilians of Japanese descent (people of Japanese descent born in another country are called nikkei-jin) have in turn emigrated to Japan to fill labor shortages. Perhaps because of this, a few years ago one of the staples of the Brazilian diet, pao de queijo, little cheese breads, became very popular. While their popularity may have descended a bit from their peaks (Japan tends to be periodically swept up by big food or fashion trends, which after a time get dropped without warning when people move onto the next thing, but that's another story), they are still made by bakers throughout Japan.
I think that pao de queijo appeals so much to the Japanese palate because they are small, round and cute, and have a distinctive gooey-sticky-glutinous kind of texture inside. This texture is called mochi mochi, after mochi, the very gooey-glutinous rice cakes.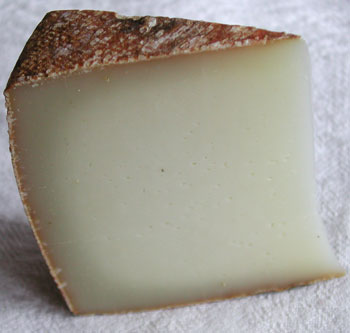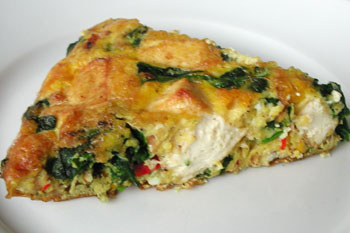 We are into Week 5 of MasterChef. The ingredients for day 17 are: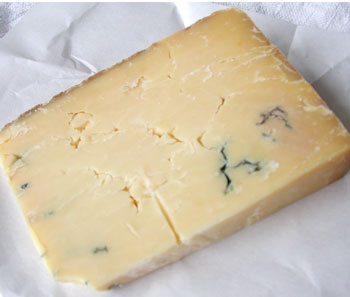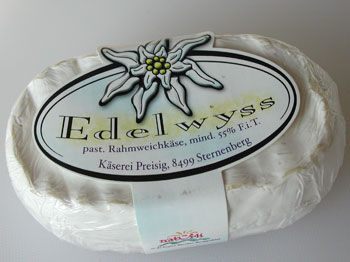 Isn't this one of the prettiest cheese labels you have ever seen? I found this cheese being sold at one of the many cheese stands that set up at the Wednesday market here in Zürich