weekend project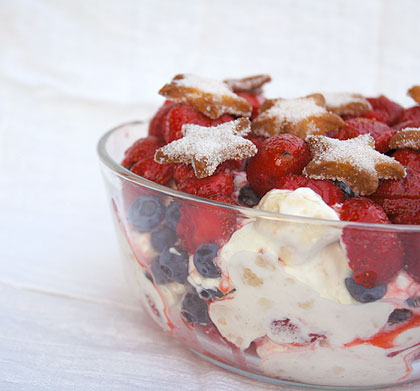 (From the archives. If you're planning a big Fourth of July party, consider this very colorful, cool dessert, which I made for a party several years ago. There are a lot of steps involved, but you can cut corners with storebought meringue and sugar cookies if you prefer. Originally published in July 2006 (!))
I love outdoor parties in the summer, especially when it means a barbeque. July the 4th barbeque parties are the best, and I miss them sorely when I am not in the U.S. This year though, we are going to have a July the 4th party on Sunday (since the 4th is not a holiday here), complete with grilled hamburgers, wurst, and chicken. Someone else is going to do all that grilling, so I am making the dessert.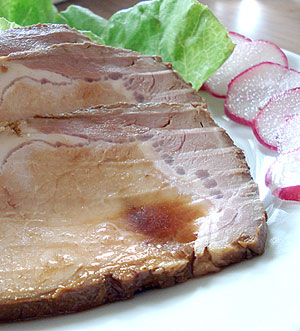 With summer just around the corner, I like to think of food that can be made well ahead and tastes great served cold, or at least cool, to keep me out of a hot kitchen. The vegetable part of this is usually taken care of with seasonal vegetable salads and the like. If the protein part means meat, I like to have pre-cooked pieces tucked away in the freezer.
One of my favorite cold meats is poached and marinated pork, or nibuta. (Ni means to cook in liquid, and buta is pig.) It's very easy to make, stores beautifully in the refrigerator for about a week or much longer in the freezer, and of course, tastes great - savory, slightly sweet, and very juicy. It can be sliced very thinly or julienned for one-dish meal salads or in sandwiches, or chopped up and added to stir-fries, wraps, and so on. It's a great addition to a bento box. It can be cubed or coarsely ground and used instead of char siu (roast pork) in steamed buns or bao. The possibilities are only limited by your imagination.
There's one unusual 'secret ingredient' in the poaching liquid, umeboshi or pickled plum. You can omit this if you like, but adding just one umeboshi seems to de-fat the meat a bit more than just poaching, plus making it taste a bit cleaner and fresher in an interesting way.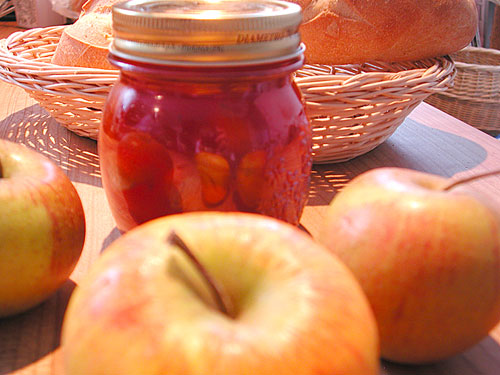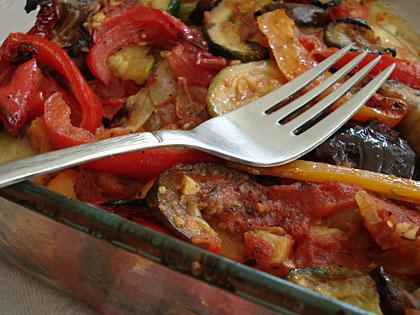 Although ratatouille seems synonymous with summer, perhaps because it comes from sunny Provence, I think it's really a dish to make right now, in early fall. This is when the essential ingredients - eggplants (aubergines), fresh tomatoes, zucchini (courgettes), sweet onions, and peppers - are all at their peak. You can get all of those things year-round nowadays of course, but vegetables in season are always just a bit sweeter.
The tall, willowy plant with the long, narrow leaves waved around in the breeze, behind the rows of neat balls of mini-basil. Wondering what it was, I stretched out a hand and rubbed a leaf.
Immediately, my senses were filled with a lemony, refined aroma. It was like a lemon scented geranium, but not quite. It was like lemon balm, but not as minty. The sunburned, kindly faced owner of the market stall said that it was verveine. He went into a long explanation, of which I understood perhaps half, about how to care for the plant. I nodded ernestly and took notes.
Summer is slowly drawing to a close. Sure it's mid-August, and the weather here has actually warmed up since the cold spell we had around the beginning of the month. But I can tell that summer is now an old lady because the taste of some produce is already changing. Peaches for instance. They were so sweet and juicy just a few days ago, but the ones I've bought the last few days are already either a bit too hard, a bit too sour, or rather mushy (showing they've been 'ripened' after being picked).
Weekend Project is an ongoing series of slightly more involved recipes or food projects that are best tackled on the weekends.
I love garlic. It's hard for me to even conceive of the notion that someone can actually not like garlic. But indeed, there are a few lost souls who don't like garlic that much.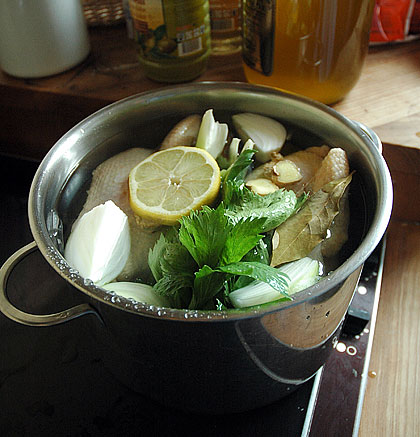 I hate to do this just after starting it, but I won't be able to post new Weekend Projects (where I suggest a food project that takes a bit of time to accomplish) for a couple of weeks, since I'm on the road. (I have a kitchen to use...but I can only find a couple of battered pots here.) There are several Just Hungry articles from the past that are great for trying out over a weekend though. Since the weekend always seems like a great time to have something sweet, here are just a few suggestions.