natto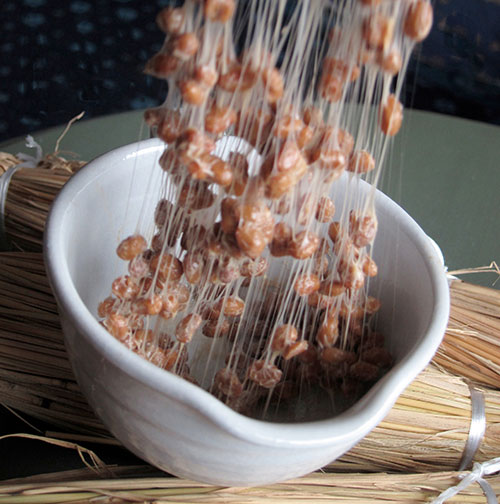 Sticky slimy smelly goodness - and it's good for you too.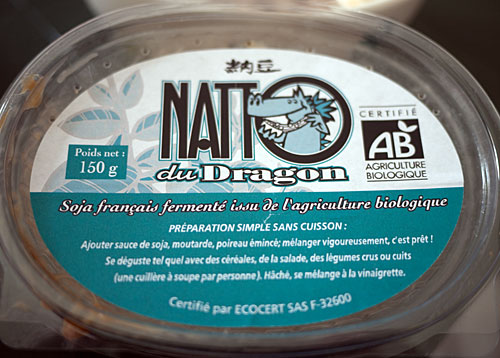 As I slowly settle in to my new life here in France, I'm finding out about quite a lot of interesting local suppliers of the things that I want to eat, wear, sit on, or otherwise use. But I never thought that I'd find this: French natto, as in natto made right here in my region of France!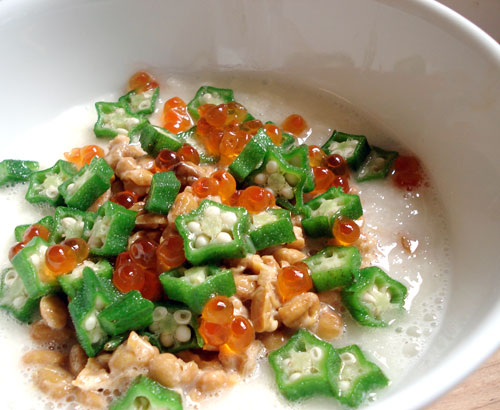 You want slime? I'll give you slime multiplied!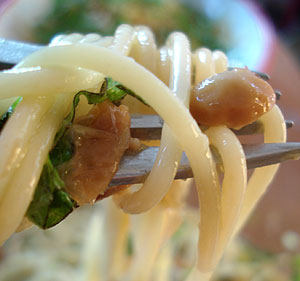 The word wafuu may sound like someone trying to say yahoo and not quite succeeding, but it actually means "Japanese-style" in Japanese.
Italian style pasta has been popular in Japan since the post war period. In the beginning it was served with Italian, or at least Western European, style sauces, but some time in the '70s or so people started to experiment with Japanese flavors. Essentially, things that are usually eaten with white rice were mixed into or put on top of spaghetti and other pastas. These are known as wafuu pasuta or wafuu supagetti (say these out loud and you'll know what they are), and became popular on the menus of Japanese cafés (kissaten) and the like.
There is at least one restaurant in the U.S. that I know of that has a couple of wafuu pasuta dishes on their menu - Basta Pasta (warning: icky Flash-only site!), in New York. They don't really go far enough in my opinion though. If you love Japanese flavors you'll probably love wafuu pasuta too.
Most wafuu pasuta recipes are very quick and easy to make, so they are great for quick dinners. Incidentally, to achieve a more Japanese texture cook the pasta about a minute or so longer than you might otherwise, so it's a bit past al dente. Japanese people generally prefer softer pasta.
Following are three of my favorite quick and easy wafuu pasuta dishes.
I was not going to talk about natto as part of my Odd Japanese food that may help you lose weight(OJFTMHYLW) series this week. But coincidentally, natto as a diet aid has been in the news big time in Japan, with claims that a 'magical' substance in this sticky food helps people to effortlessly lose weight.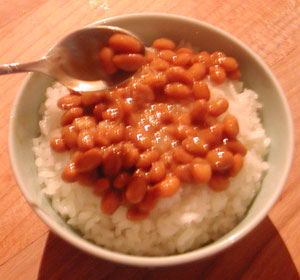 Japanese people like to consume soy beans in many forms. The most well known soy bean product outside of the country is tofu, and edamame (green soy beans) is gaining in popularity too. There is one Japanese soy bean product that probably will never become very popular in other countries though, and that's natto.