pasta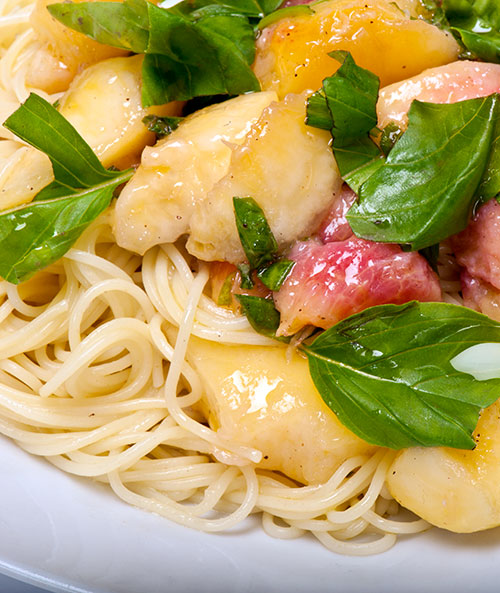 Juucy fragrant peaches work surprisingly well in this summertime appetizer pasta.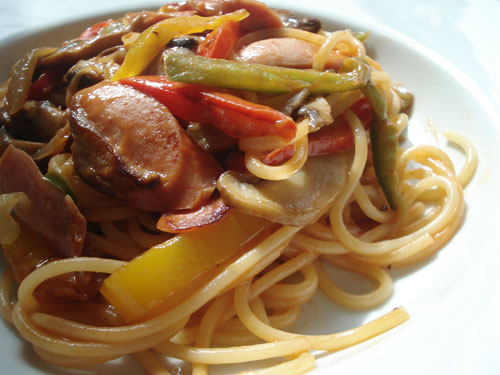 Continuing my yohshoku mini-marathon, here's the infamous Japan-ized pasta dish called Napolitan or Naporitan. (Japanese doesn't have an L or R sound, which is why Japanese people often mix them up when speaking Western languages.) As far as I know, there's nothing remotely Neapolitan about Napolitan, except for the use of spaghetti. It is made with a creamy ketchup-based sauce, and has the salty-sweet flavors that Japanese people love.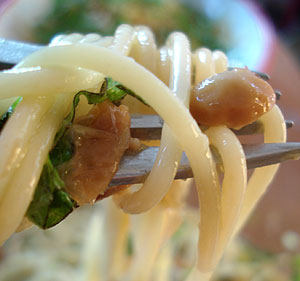 The word wafuu may sound like someone trying to say yahoo and not quite succeeding, but it actually means "Japanese-style" in Japanese.
Italian style pasta has been popular in Japan since the post war period. In the beginning it was served with Italian, or at least Western European, style sauces, but some time in the '70s or so people started to experiment with Japanese flavors. Essentially, things that are usually eaten with white rice were mixed into or put on top of spaghetti and other pastas. These are known as wafuu pasuta or wafuu supagetti (say these out loud and you'll know what they are), and became popular on the menus of Japanese cafés (kissaten) and the like.
There is at least one restaurant in the U.S. that I know of that has a couple of wafuu pasuta dishes on their menu - Basta Pasta (warning: icky Flash-only site!), in New York. They don't really go far enough in my opinion though. If you love Japanese flavors you'll probably love wafuu pasuta too.
Most wafuu pasuta recipes are very quick and easy to make, so they are great for quick dinners. Incidentally, to achieve a more Japanese texture cook the pasta about a minute or so longer than you might otherwise, so it's a bit past al dente. Japanese people generally prefer softer pasta.
Following are three of my favorite quick and easy wafuu pasuta dishes.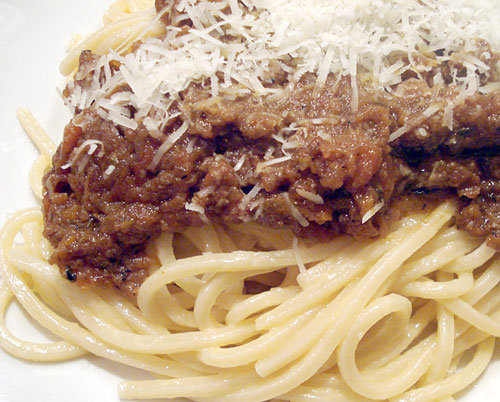 I love pasta in many guises, but when it comes to ultimate Comfort Pasta, there is nothing that compares to a spaghetti bolognese. By spaghetti bolognese, I mean spaghetti topped with a rich, ground-meat and tomato based sauce. No fancy ragu or such. I don't think it's that authentically Italian, but I don't really care. It's one of my favorite cool-weather dinners.
Once upon a time, I had what I thought was a perfect recipe for spaghetti bolognese. Then, about a year ago I lost my way. After a year of bewilderingly off-target bolognese, I've found my way back.
I blame Heston Blumenthal for messing with my head. (Disclaimer: I am otherwise a big fan of Mr. Blumenthal.) Last year, he tackled spaghetti bolognese on his In Search of Perfection television series (and in the book of course), and came up with a "perfect" version. The perfect Blumenthal version of spaghetti bolognese is, naturally, extremely complicated, but compared to the other "perfect" versions of various popular dishes it seemed to be the most doable. So, we (note the plural: it required a team effort) tackled it, piece by piece. It does help in life to have an almost equally food-obsessive partner for such quests.
It took us 3 full days to accomplish, starting from the pre-ordering of the meaty oxtails at the butcher counter (it's not a commonly used cut here), finding the perfect spaghetti, ripe tomatoes in December (yes, I know) and the final slow cooking of the sauce. And the result?
It was good, yes, but perfect? Neither of us was sure. But yet it had flashes of something great in there; the meatiness of the gelatinous oxtail, the unctuous richness. So, we embarked on a long journey of trying to tweak that recipe. We tried different meat combinations. (Turkey is a definite no.) We experimented with bacon, chorizo, various sausages, salami. We tried less or more of the vegetables, canned tomatoes alone or fresh alone.
All were interesting, but I still felt off kilter. Then, the other day I made bolognese more or the way I had made it for years until the Blumenthal experiments - and, it was just about perfect.
Mind you, it's probably because my criteria for a perfect bolognese are different from the great chef's, as I explain below. And some of the ideas gleaned from the Blumenthal version and the ensuing experiments did creep in, making the sauce even better. In any case, I'm now happy that this is my Perfect Spaghetti Bolognese. I can now move on to perfecting other things.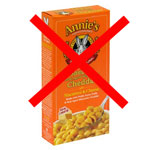 Rebecca Blood has a great post summing up the recent minor brouhaha about a popular 'quality' mac and cheese brand that originated with article in Salon magazine, vs. the standard of the genre that comes in a blue box. Rebecca focuses on the actions of the CEO, specifically his comments on a post on megnut, which are funny in the way he assumes that people will just take his marketspeak at face value.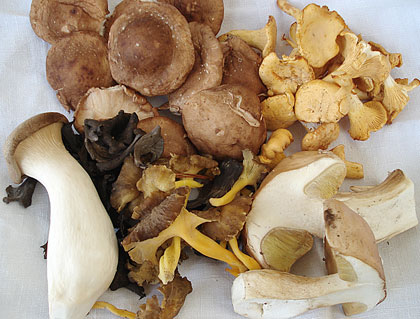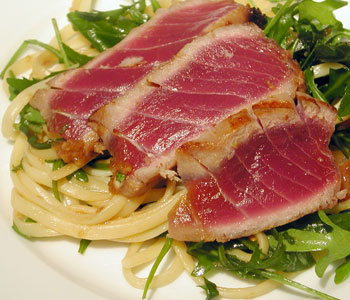 It's day 8, and the end of week two of MasterChef. The ingredients were:
Tuna steak
Fresh basil
Fresh (?) linguine
Potatoes
Olives
Parmesan cheese
Potatoes, again! This week potatoes have been in the list every day. I decided to go with the linguine instead - I was missing pasta anyway.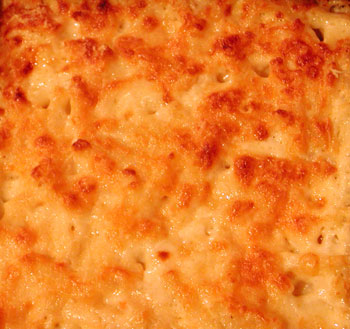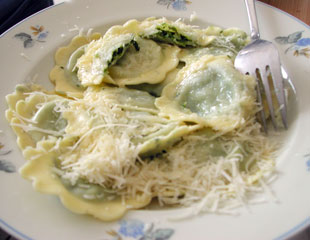 (Yes, more round food!)
Last April I wrote about a local speciality of sorts, wild garlic, or bärlauch, pesto. It's a type of garlic that only appears in the forests in the spring. We still have about 15 cm / 6 inches of snow on the ground here, which isn't really that usual for mid-March. So spring still feels rather distant.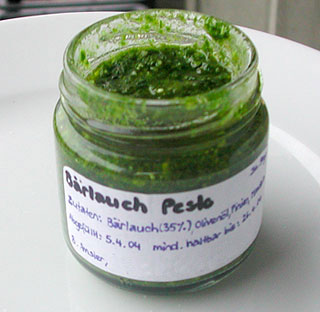 I've mentioned our local organic farm where we buy our eggs several times before. They also sometimes sell some locally produced food items. We spotted this wild garlic, or bärlauch pesto the other day and had to try it. (Ironically it turns out it's made by one of our neighbors who lives across the street.)