lighter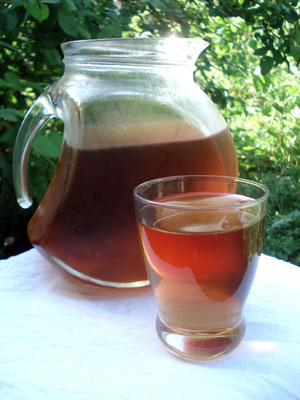 From the archives: We apparently had the coldest spring on record in this area. It's finally getting warm again, and today I started my first batch of mugicha this year. Here is a slightly updated article about mugicha, or toasted barley tea, my favorite non-alcoholic summer drink. This was originally published on May 10, 2007, and updated on June 10, 2008. I've added another update at the end.
When we were growing up, my mother frowned upon most sugary drinks for us kids. So things like sodas were generally not stocked in the house - an ice-filled cup of Coke was a great treat whenever we went out to eat. Things like Calpis, or when we lived in the U.S. Kool-Aid, were strictly rationed. The cool drink we always had in the refrigerator was mugicha, or barley tea. Even when we lived in White Plains, New York, there were always a couple of jugs of mugicha in the large American refrigerator.
Mugicha is traditionally made by briefly simmering roasted barley grains. It has a toasty taste, with slight bitter undertones, but much less so than tea made from tea leaves. To me, it's much more refreshing to drink than plain water.
My anti-sugar mother always made sugarless mugicha, but my younger self craved the sweetened mugicha that most of my friends' mothers seemed to make. I always begged my mother to make sweet mugicha, but she always refused. Some day, when I am the one making mugicha, I'll put all the sugar I want in it, I used to think. So, when I reached my teen years, and my mother was back working full time, I used to pour rivers of sugar into the mugicha. My little sisters loved it. I'm not sure if it made them more hyper than usual, though I have vague memories of my younger sister sitting on my head when she got bored.
Now that I am nominally an adult, I much prefer unsweetened mugicha. I'm growing more like my mother as I get older, a rather scary thought.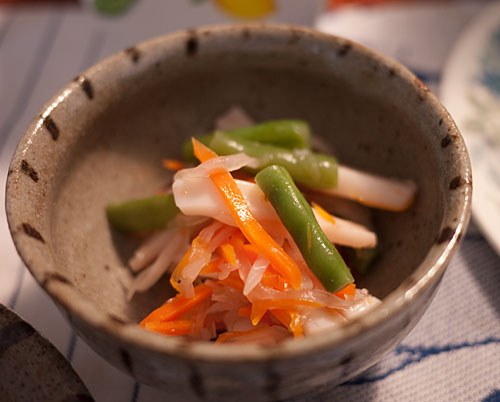 A simple side dish or salad to serve as part of a Japanese meal, or on its own. Plus, take a look at a couple of real Japanese home meals!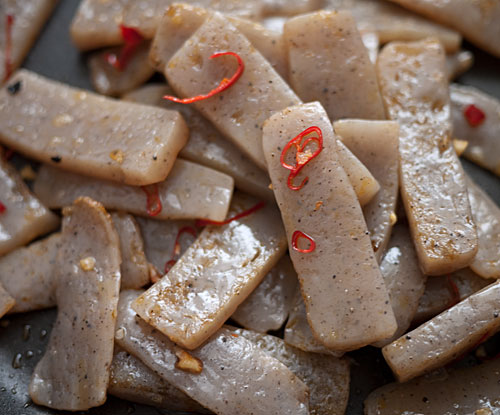 Konnyaku is a wonderful food for anyone on any kind of diet - provided, of course, that you like it. I do like it - it has a very unique chewy-bouncy texture. I have described konnyaku and its noodle-shaped cousin, sharataki, before, but briefly, konnyaku is a grey to white colored, gelatinous mass which basically consists of water and fiber. It has almost no calories. Right out of the package, konnyaku and shirataki have an odd smell, but if you treat it properly (directions given below) you can get rid of that and just have the flavorless yet curiously interesting mass of goo that is going to fill up your belly in a very useful way.
This is something very easy to make in a jiffy. It's basically taking a classic Italian spaghetti recipe and applying it to konnyaku. You could make this with shirataki too, in which case it will actually look like noodles, but I rather prefer the chewier texture of konnyaku. The only thing to watch for if you are on a diet is the amount of olive oil and optional cheese you use.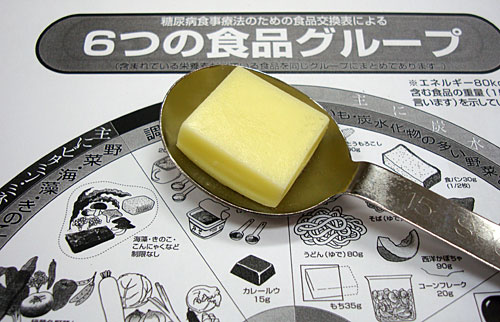 Those famous realistic plastic food models aren't just used for restaurant displays in Japan. They are used for dietary and nutritional education in hospitals as well.
The more I study old Japanese customs, the more I am impressed by the logical thinking behind many of them, even when examined with modern eyes. One of these the custom of partaking of a bowl of nanakusagayu on the seventh day of the New Year, which supposedly started in the Heian Period (around the 12th century), in the refined court of Kyoto. Nanakusa means seven greens, and kayu (or to use the honorific term, okayu (お粥)), is rice porridge. The Imperial Court, now in Tokyo, still has a nanakusagayu ceremony on the morning of January 7th.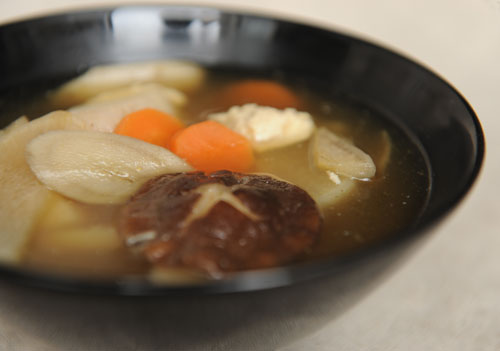 It's been a cold and snowy winter so far around these parts, which usually means soups and stews for dinner. This classic Japanese soup is hearty yet low in calories, full of fiber, and just all around good for you. It helps to counteract all the cookies and sweets you might be indulging in at this time of year.
The name kenchinjiru (けんちん汁)derives from the Zen Buddhist temple where it was first made (or so it's claimed), Kencho-ji (建長寺)in Kamakura. (Kamakura (鎌倉) was, for a brief while, the capital of Japan in the 12th and 13th centuries. Nowadays it's a major historical tourist attraction, and a fairly easy day trip from central Tokyo.) Since kenchinjiru is a shojin ryouri or temple cuisine dish, the basic version given here is vegan. It's still very filling because of all the high fiber vegetables used. You could make a very satisfying vegan meal just from this soup and some brown rice.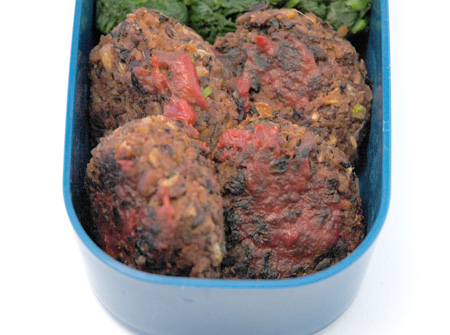 From the archives. This is terrific freshy made and hot, but is even better cold, so it's great for bentos. Originally published in November 2007.
Over the past couple of years as I've pursued largely vegetarian eating, I've gradually accumulated a small arsenal of small, round bean patties or balls, which are great as snacks, for bento boxes, and just for dinner, in my regular rotation. This one was inspired by one of the first beany-round thing I made, the samosa-like lentil snacks from The Hungry Tiger, and a Japanese vegan cooking book called Saisai Gohan (Vegetable Meals) by Yumiko Kano. (Yumiko Kano is currently my favorite cookbook author in any language, and I'll talk more about her down the line.) I've adjusted a few things to make them gluten-free.
These have the earthy, deep flavor of the black beans that is enhanced by the spices and the sauce, and they are delicious hot or at room temperature. Even diehard carnivores like them. They're really perfect for bento lunches, and I've used it in the all-vegan Bento no. 5 on Just Bento. I also used them as a pita-sandwich filling in Bento no. 6.
I have described two methods of cooking these: in the oven, which is good for making them in quantity, and in a frying pan, which is perfect for making a few at a time.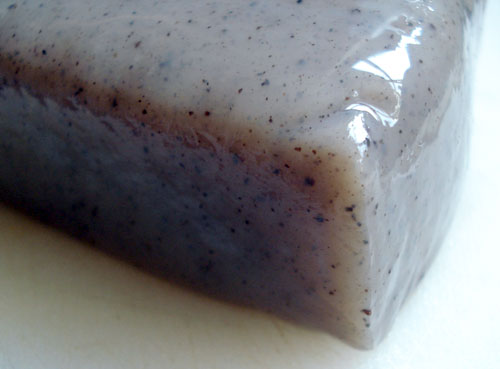 From the archives. For some reason I've been getting several email questions about konnyaku recently, so here is my definitive (I hope) guide to preparing konnyaku and konnyaku noodles, or shirataki. Originally published in January 2007.
The quintessential Japanese foods that (may) help you lose weight, are konnyaku and shirataki. Both are made from the same substance, the corm of the konnyaku or konjac plant. Shirataki is also known as konnyaku noodles, to further confuse things, but I prefer the original name which means "white waterfall". It's basically konnyaku shaped like long thin noodles.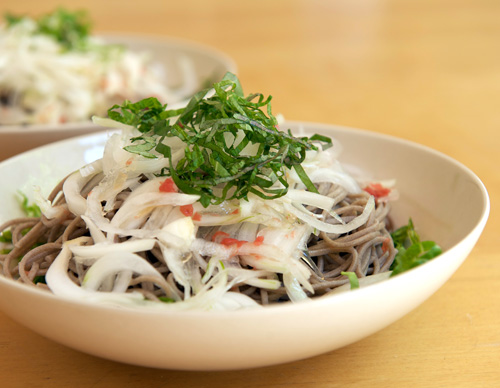 We still haven't found a house to buy (though we may getting close), and due to the way things work in France, we are probably going to be nomads for at least 4 more months even if we put in an offer for a place tomorrow. I've gotten more used to cooking in tiny holiday home kitchens, but I'm still not up to anything too complicated - or in other words anything that requires the use of more than 2 burners at a time.
Fortunately it's now summer, which means lighter, less complicated meals anyway. This salad, which can be a meal on its own, a starter or a light side dish, features sweet salad onions (spring is the season for them, at least around these parts), sliced paper-thin and refreshed in ice cold water. The tart dressing features umeboshi (pickled plums) and uses no oil, so this is an almost fat-free, fairly low calorie dish, that's vegan to boot.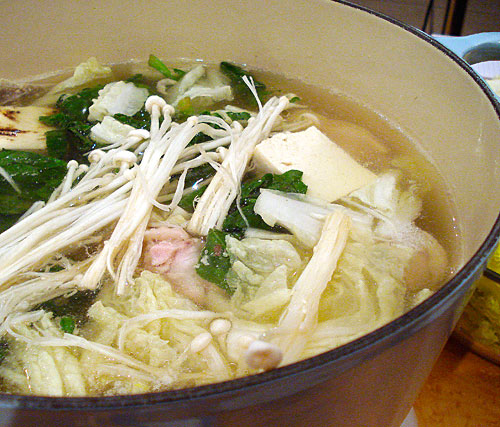 Nabe (鍋, pronounced NA-beh) is the Japanese word for a pot or pan. But it also means a one-pot dish where several ingredients are cooked together in a broth. While nabe can be cooked in the regular way on the stovetop, the most popular kind of nabe are cooked at the table on a portable burner. The quintessential image of a Japanese happy family is one that gathered around the dining table eating a nabe. (Nabe cooked at the table is also called yosenabe (寄せ鍋), which just means a nabe where the ingredients are gathered together (寄せる、yoseru). Because a nabe is piping hot, it's a great winter meal, with very little preparation.
A lot of Japanese nabe recipes call for ingredients that are only widely available in Japan, but this is a recipe for a nabe that you can recreate wherever you are. It uses chicken and a lot of vegetables, so it's very healthy and frugal - perfect recession cooking! The only special equipment you need is a tabletop cooker of come kind, that can sustain a boiling heat. See more about tabletop cookers in the Notes at bottom.